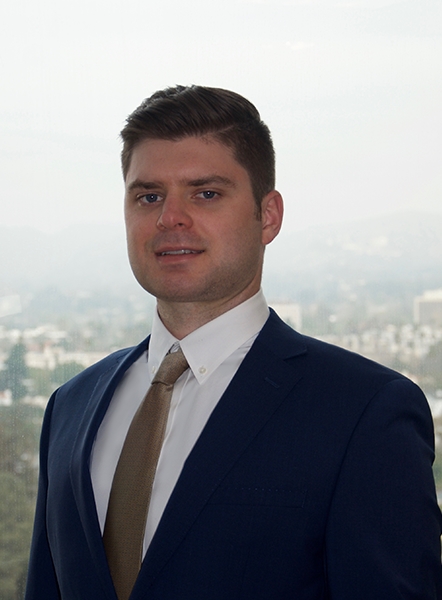 Michael Witczak, Esq.
Mr. Witczak is a lit­i­ga­tion asso­ciate at Bri­an P. Kamel & Asso­ciates. Mr. Witczak attend­ed Wabash Col­lege in Craw­fordsville, Indi­ana, where he grad­u­at­ed magna cum laude and Phi Beta Kap­pa with a bachelor's degree in Phi­los­o­phy and a minor in The­ater. Whether com­pet­ing in com­pet­i­tive speech com­pe­ti­tions or act­ing on stage, this expe­ri­ence gave Mr. Witczak the abil­i­ty to devel­op skills that would help him to excel with defend­ing clients with a per­sua­sive fer­vor.
After grad­u­at­ing col­lege, Mr. Witczak attend­ed Indi­ana University's Mau­r­er School of Law, where he grad­u­at­ed cum laude. While Indi­ana Uni­ver­si­ty Mauer School of Law, Mr. Witczak focused his stud­ies on busi­ness law and defense lit­i­ga­tion. Dur­ing law school, Intern­ships with the Mon­roe Coun­ty Pub­lic Defender's Office, Los Ange­les Men­tal Health Advo­ca­cy Ser­vices, and the Indi­ana University's Gen­er­al Counsel's Office, allowed Mr. Witczak to fur­ther devel­op his pas­sion for pro­tect­ing the inter­ests of health care providers, indi­vid­u­als, and busi­ness enti­ties in the med­ical field. In the expe­ri­ence he gained, he learned how sig­nif­i­cant an impact a practitioner's care can have on an indi­vid­ual who is faced with the chal­lenge of a med­ical or psy­cho­log­i­cal dis­ease.
Mr. Witczak began his legal career work­ing at The Walt Dis­ney Com­pa­ny in Busi­ness Affairs, where he honed his skills at ana­lyz­ing con­trac­tu­al agree­ments. His time work­ing at Dis­ney also allowed him to fur­ther devel­op his nego­ti­at­ing skills and gain a bet­ter under­stand­ing of the legal chal­lenges busi­ness enti­ties face on a dai­ly basis. His cur­rent prac­tice con­tin­ues to focus on pro­tect­ing busi­ness­es in the area of health care, includ­ing the defense of doc­tors in med­ical and den­tal mal­prac­tice lit­i­ga­tion cas­es, as well as health care licen­sure cas­es. Last­ly, Mr. Witczak's prac­tice includes the prepa­ra­tion and nego­ti­a­tion of con­tracts aris­ing in the health care field.